Continued from Section 1. Re-posted with permission from Talk to Action in three sections. Read section 3.

Students First?
Students First PAC, a 527 created to promote vouchers in Pennsylvania, was established on March 10, 2010 by Joe Watkins. On the Students First website Watkins describes himself "as an aide to a president of the United States and as a pastor of a church," but he doesn't mention that the president was George W. Bush. Nor does the bio mention Watkins' lobbying and investment fund resume, his appearances on MSNBC, CNN, and Fox as a Republican strategists, or being featured in a Citizens United advertisement attacking Barack Obama during the 2008 presidential campaign.  The website does nothing to give away it's right-wing backing or their extreme agendas, unless you happen to be familiar with the generic-sounding foundations listed as supporting the bills.



Students First shares the name of the network founded by Michelle Rhee, former D.C. school superintendent and a star in the documentary Waiting for Superman, who has been described by some as the Sarah Palin of education because of the unusual media attention.  She has now shocked some of her more progressive fans by joining forces with Florida Governor Rick Scott who is promoting a Vouchers-for- All bill.  The Pennsylvania Students First organization is actually an affiliate of American Federation for Children (AFC), chaired by Betsy DeVos, as it states on the website.  A donation to Students First PAC was received from Joel Greenberg, a board member of AFC, on the date the PAC was formed.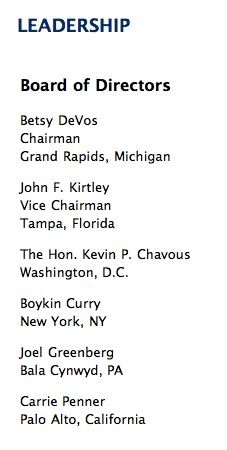 Approximately 5 million dollars from Greenberg, a co-founder of Susquehanna Investment Group (SIG), and two of the other SIG co-founders, Jeffrey Yass and Arthur Dantchik, would follow between March 10 and May 11, 2010. Most of this money was, in turn, contributed to the campaign of Democratic gubernatorial candidate Anthony H. Williams. Graphic at right is the AFC board of directors.
Williams is an African American Democratic state senator serving part of the Philadelphia area and was a very long-shot candidate in a large field of Democratic candidates for governor. William finished a distant third and the Democratic nomination was won by Dan Onorato, Allegheny County Executive and a centrist Democrat, who was endorsed by both of the state's public school teachers' unions in the general election. In August, months after the May primary, Williams endorsed Onorato in a public appearance and Onorato, in turn, voiced support for school vouchers for low income students.  Expectations were raised that Onorato would have a chance of tapping into the same donor pool that financed Williams' campaign.
The Washington Post reported, via a political consultant, that Onorato later met with the three Williams donors who declined to support Onorato's campaign, despite his embrace of William's voucher scheme. Some of the press coverage claimed the three had become "gun shy" due to the unexpected press exposure. It was reported that the trio of mega-donors said Onorato's position "did not go far enough."  It was unlikely that these donors, affiliated with right-wing think tanks, would support Onorato or that he would have embrace their real agenda.  Williams, on the other hand, despite liberal stances on some issues, had been working in these circles of voucher supporters for years, forming ties with the interconnected network of the pro-privatization movement.  It would have been hard for him not to know that these supporters and the associated think tanks openly advocate ending public education or that Students First is part of Betsy DeVos' privatization crusade.
Who is Betsy DeVos and Why Is She Trying to Privatize Public Schools?
Betsy DeVos is a former chair of the Michigan Republican Party; daughter of the late Edgar Prince and Elsa Prince-Broekhuizen; sister of Blackwater-founder Erik Prince; and wife of Dick DeVos (son of Richard and Helen DeVos). The Devos side of the family fortune comes from Amway/Alticor, the controversial, multi-tiered home products business. A Center for Public Integrity Report showed that the DeVos family and business interests were the fifth largest contributors in the 2003 -2004 election cycle, with 100% of the donations going to Republicans.
Dick and Betsy DeVos have been credited with helping to finance the Citizens United case which allows Super PACs to raise unlimited funds and conceal the donors, meaning that we will no longer know who provides the millions of dollars for the big media campaigns, or reveal the information that I have in this article on the Pennsylvania campaign.
The Prince and Devos families have also funded the Family Research Council, Focus on Family, and the ministries of the late D. James Kennedy, all warriors against separation of church and state. Kennedy did, however, believe in separation of school and state. Like many others who have benefited from Devos and Prince family largesse, he signed the proclamation to end public schools.
Much of the research claimed to support vouchers and charter schools comes directly from the Foundation for Education Choice, a think tank founded by the late Milton and Rose Friedman. Milton Friedman was the patriarch of the "Chicago School" and radical free market economics. In a briefing paper for the Cato Institute (Scaife/Koch/Devos-funded) titled "Public Schools: Make Them Private," Friedman stated,
"Vouchers are not an end in themselves; they are a means to make a transition from a government to a market system."
The DeVos and Prince families played a major role in bringing together right-wing business leaders and religious conservatives and combining these forces to battle labor unions and federal regulatory policy while promoting conservative social policy.  The Right built a parallel universe of think tanks to counter the established institutions deemed to be controlled by liberals.  The secretive Council for National Policy was described by ABC in 2002 as the,
"most powerful conservative group you never heard of."
"The brightest lights of the hard Right," stated ABC News, meet behind closed doors – invitation only – and with no press. Richard DeVos famously described the CNP as bringing "together the doers with the donors." The expenditure report of Students First PAC shows a $575 dollars for conference registration for the Council for National Policy.
Betsy DeVos, who heads Alliance for School Choice, founded All Children Matter in 2003, American Federation for Children, and American Federation For Children Action Fund, registered in 2010. Alliance for School Choice and American Federation for Children have almost identical board of directors, including Kevin P. Chavous, a former D.C. council member who describes himself as having "helped shepherd" the D.C. and New Orleans charter school programs. DeVos' pro-voucher organizations pump millions of dollars into campaigns around the country, including last minute media blitzes. Advertisements sometimes omit the word "vouchers" but accuse their rivals of opposing equal opportunity education and and not caring about the education of African American students in failing urban schools.
Until recently it appeared that the voucher movement had fizzled. In 2000, both California and Michigan voters overwhelmingly rejected voucher schemes despite the DeVos campaigns being advertised as having broad based support. Kids! Yes! First! spearheaded the unsuccessful voucher drive in Michigan in 2000 and raised four million dollars in six months. But of the four million, three million came from the DeVos family, including one million each from Dick DeVos, Betsy Devos, and Betsy's mother, Elsa Prince. The Michigan Catholic diocese contributed $740,000.
Betsy DeVos` organizations have had significant legal problems. All Children Matter was fined 5.2 million dollars for funneling campaign money into Ohio in 2006 through their various state networks and lost its legal appeal in February 2010. Misconduct has been reported in several states, including a case in Wisconsin that resulted in a fine.
Following these legal troubles, All Children Matter disappeared and a new entity emerged under the name American Federation for Children. This new DeVos-led organization has affiliate groups in several states and its board of directors includes Chavous, John F. Kirtley, Boykin Curry, Joel Greenberg, and Carrie Penner. The American Federation for Children website links to right-wing think tanks funded by the DeVos, Scaife and Koch foundations, including the Cato Institute, the Center for Education Reform, Heartland Institute, Heritage Institute, Institute for Justice, and State Policy Network.
Board member Kirtley also serves on the board of the James Madison Institute, which has been heavily funded by Koch foundations. J. Stanley Marshall, the founding chairman of the institute also signed the proclamation at Alliance for Separation of School and State calling for the end of public education.
American Federation for Children sponsored rob-o-calls, which urged Wisconsinites not to sign recall petitions for eight state senators who have supported Governor Scott Walker's anti-union agenda. The groundwork and talking points for Walker's war on public sector unions was prepared by the same DeVos/Scaife/Koch-funded think tanks that promote the privatization of schools. (The three SIG founders who funded Anthony Williams' campaign in Pennsylvania, each contributed $6,000 dollars to Scott Walker's campaign.)
The anti-public school crusaders have attacked their opponents with self-righteous zeal. In late October 2010, advertisements describing Florida attorney general candidate Dan Gelber as "Toxic to Jewish Education" were published in Florida's larger Jewish communities. The words were in a red Halloween font and criticized Gelber's refusal to support vouchers that could be used to fund students at parochial schools. Dan Gelber is Jewish and the ad did not originate from the opposing candidate.  From the Broward Palm Beach New Times article titled,""Anatomy of the Gelber Attack: From Amway to Huizenga,"
"The ad was funded through a state 527 committee that itself was funded a quarter million dollars by a federal organization called the American Federation for Children. That group is aiming these kinds of scurrilous attacks against Democratic Jewish candidates in several races.The American Federation for Children is chaired by a woman named Betsy DeVos. … Dick DeVos is the son of billionaire Amway founder (and Orlando Magic owner) Richard DeVos. The DeVos family is among the largest political contributors in America today — and they generally back an extreme right-wing agenda. The vice chairman of the group is John F. Kirtley, a 'venture capitalist' and sizable Florida Republican Party donor out of Tampa. Prior to starting the current organization, DeVos and AFC Executive Director Greg Brock collaborated on a similar group called All Children Matter (ACM)."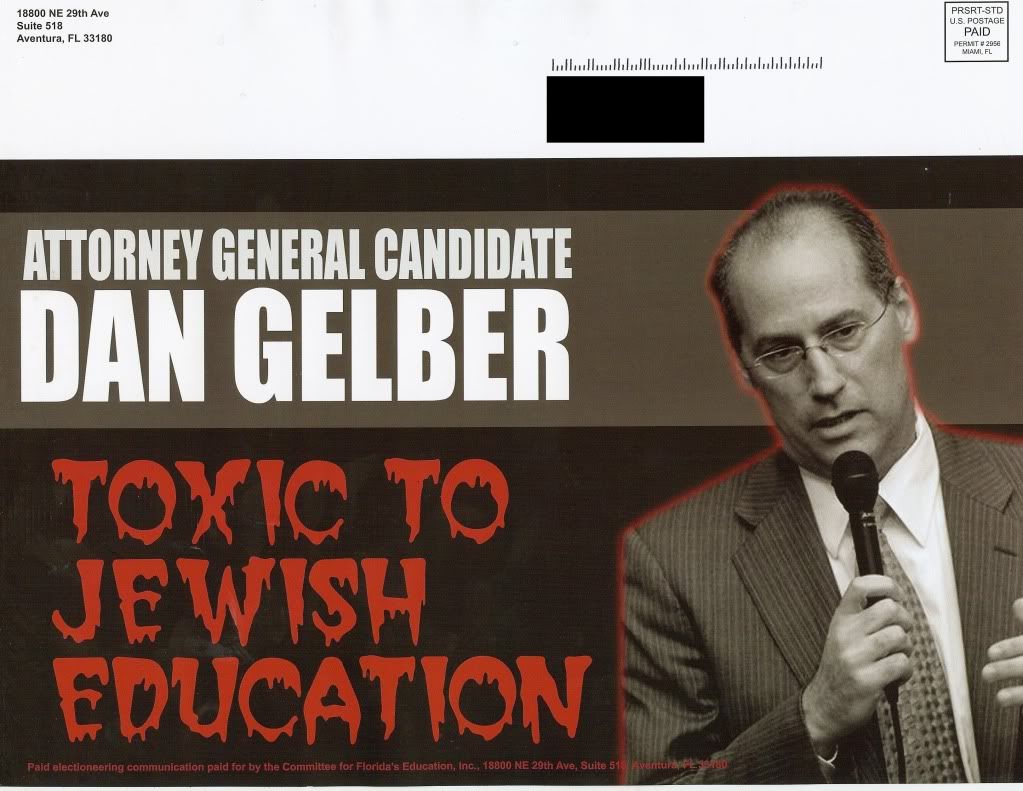 The article continues with a list of other questionable campaign maneuvers by All Children Matter in Florida, Missouri and Virginia.
The New Right partnership has roots in some organizations that were overtly racist, and racism has frequently reared its head since President Obama was elected. Despite this problematic history, the anti-public school activists have ruthlessly exploited the inequities in our public school systems, inequities that their policies have arguably exacerbated. Millions of dollars have been spent advertising unproved radical free market agenda as the solution instead of the problem. Opposition is demonized as intentionally obstructing a bright future for disadvantaged children and sometimes implied to be racist. The effort has successfully courted (and funded) a small group of Democratic African American leaders who have become the public face of the privatization movement.